Partial brick of suspected cocaine seized by SGET
Surrey
2021-05-12 11:01 PDT
File # 2021-67750
The Surrey Gang Enforcement Team has seized a partial brick of suspected cocaine as part of on-going targeted gang enforcement in Surrey.

On May 9, 2021 at 11:27 p.m., Surrey Gang Enforcement Team (SGET) attempted to stop a speeding vehicle in the area of 108 Avenue and 152 Street. The vehicle failed to stop and fled from police at high rate of speed. Other SGET units in the area were able to get ahead of the fleeing vehicle and blocked the lanes of travel. With no route of escape, the suspect vehicle stopped and the driver was arrested.
Further investigation led to seizure of a partial brick of suspected cocaine, weighing 247 grams. This amount of cocaine when packaged for streel level sale is 1,225 doses, the equivalent of 25 busloads of people.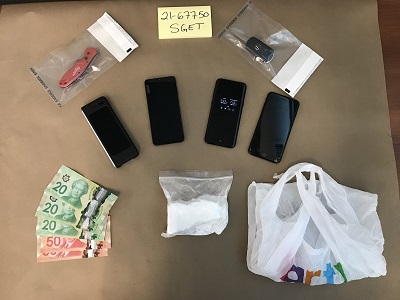 In addition to the suspected drugs, the vehicle, multiple cell phones, $160 in cash, and a knife were seized as offence related property. The man, a 27-year-old Coquitlam resident was released at scene. Charges have not yet been laid, as the investigation is ongoing.

During the month of April, SGET conducted 35 curfew checks of individuals that are currently involved in lower mainland gang conflict, 65 Outlaw motor motorcycle clubhouse checks, and 24 drug investigations that resulted in seizure of two firearms and four vehicles.

Surrey RCMP is working shoulder to shoulder with the Combined Forces Special Enforcement Unit and other policing partners across the region, strategically targeting gang members and their associates. Help keep our community safe, if you have information on drug trafficking or gang activity please contact the Surrey RCMP at 604-599-0502, or Crime Stoppers if they wish to remain anonymous at 1-800-222-8477 or www.solvecrime.ca.


Released by

Cst. Sarbjit Sangha

Media Relations Officer
Surrey RCMP
www.surreyrcmp.ca
14355 57 Avenue, Surrey, BC, V3X 1A9
Office: 604-599-7776


Email: surrey_media_relations@rcmp-grc.gc.ca

Follow Us: