Coming together for a successful Toy Drive
Surrey
2020-12-16 08:51 PST
Thanks to the generosity of the community, RCMP officers and staff, the 2020 Keian's Holiday Wish Toy Drive was a great success.
Surrey RCMP collected new, unwrapped toys and cash donations from November 12 to December 11, bringing in a total of 903 toys and $1770.
On Tuesday, December 15, 2020, Constable Mark Peterse and his team at the Community Response Unit delivered the donations to B.C. Children's Hospital, and Canuck Place Children's Hospice in memory of six-year old Keian Blundell.
Restrictions on gatherings limited many of our traditional toy drive fundraising activities, so our officers and employees stepped up their personal fundraising goals this year. Some of them even got a bit competitive - in our Guildford/Fleetwood district office, a table was set up labelled by Watch to see which group could bring in the most toys. Our B watch earned this year's bragging rights, but the real reward is seeing the cheer we deliver collectively to sick kids and their families.
Seeing the pile of toys grow at our offices helped increase our own holiday spirit, says Constable Mark Peterse. It's always so great to see what we can achieve together.
The detachment would like to thank the community in helping us make Keian's wish come true every year, said Community Services Officer, Superintendent Aaron Paradis. I am extremely proud of our members and staff who helped organize another successful campaign.
For more information on Keian's Holiday Wish Toy Drive, please visit the Facebook page set up by the Blundells.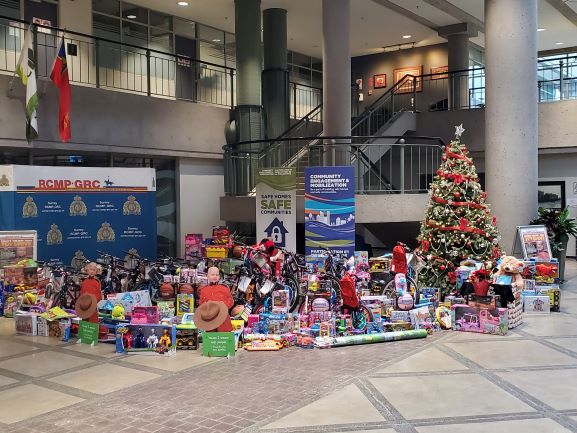 Released by
Cpl. Elenore Sturko
Media Relations Officer
Surrey RCMP
www.surreyrcmp.ca
14355 57 Avenue, Surrey, BC, V3X 1A9
Office: 604-599-7776
Email: surrey_media_relations@rcmp-grc.gc.ca

Follow Us: