Weekend proactive enforcement leads to drugs and gun seizure
Surrey
2020-11-24 13:20 PST
File # 2020-180207 & 180250
Two significant seizures of drugs and a firearm were made by Surrey RCMP in one night, as a result of proactive and targeted enforcement.
Shortly after 7:30 p.m. on November 20, 2020, a member of the Surrey RCMP Community Response Unit (CRU) was conducting targeted enforcement when they stopped a vehicle near 109 Avenue and 139A Street. The vehicle was driven by a man who was prohibited from driving and had two outstanding arrest warrants for driving while prohibited, for which the man was arrested.
Through further investigation, officers located plastic bags containing smaller packages of suspected drugs, approximately $2,000 cash, two cans of bear spray, and other items consistent with drug trafficking. The man, and the vehicle passenger, were both subsequently arrested for possession for the purpose of trafficking.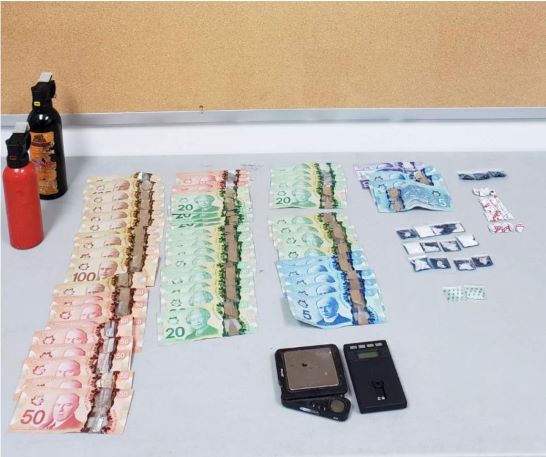 Later that night, shortly after 10:00 p.m., a frontline officer came across a parked running vehicle, in the 10500-block of King George Boulevard, where the driver was passed out behind the wheel. The officer woke the driver and began an impaired driving investigation which led to the man's arrest.
During the investigation, the officer located approximately 50 grams of suspected fentanyl, 10 grams of suspected crystal methamphetamine, approximately $1,800 cash, a firearm, ammunition, and other items consistent with drug trafficking. The man was subsequently arrested for unsafe storage of a firearm and concealing a weapon for a dangerous purpose.
Both investigations are ongoing and no charges have been laid at this time.
Our officers will continue with targeted and proactive enforcement throughout the holiday season, says Superintendent Manly Burleigh, Surrey RCMP Operations Officer. Disrupting drug trafficking activity will continue to remain a priority for Surrey RCMP.
Anyone with information about these incidents is asked to contact the Surrey RCMP at 604-599-0502, or Crime Stoppers, if they wish to remain anonymous, at 1-800-222-8477 or www.solvecrime.ca.
Released by
Cpl. Joanie Sidhu
Media Relations Officer
Surrey RCMP
www.surreyrcmp.ca
14355 57 Avenue, Surrey, BC, V3X 1A9
Office: 604-599-7776
Email: surrey_media_relations@rcmp-grc.gc.ca

Follow Us: