Tip from the public leads to seizure of drugs and weapons by Surrey RCMP
Surrey
2020-05-04 11:00 PDT
File # 2020-55470
A stash of illicit drugs, weapons and cash has been seized from a Newton residence following an investigation by the Surrey RCMP Community Response Unit (CRU).
This investigation began on March 27, 2020 after Surrey RCMP received a tip from the public regarding suspected drug trafficking. The Community Response Unit took conduct of what became a month long investigation, culminating in the execution of a search warrant on April 28, 2020, at a residence in the 6000-block of 140 Street.
As a result of the investigation, officers seized over $15,000 CAD and $275 USD in cash, knives, swords, an imitation (air-soft) gun and alleged drug trafficking paraphernalia. Suspected illicit drugs in various quantities including methamphetamine, fentanyl, cocaine and pills were also seized from the residence (see attached photo).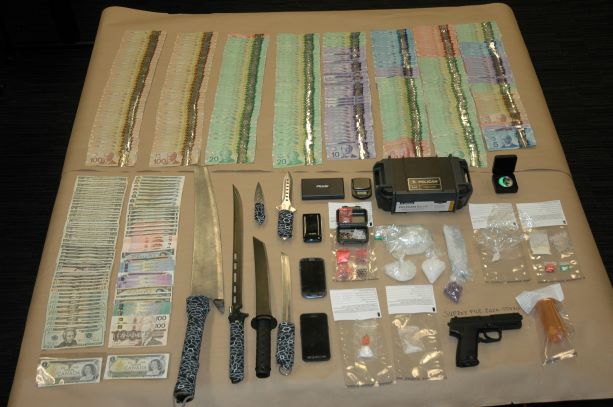 Four adults, two males and two females, inside the residence were arrested and subsequently released pending further investigation. No charges have been laid at this time.
This is another example of how the community can play a significant role in helping us keep the community safe, says Community Response Team S/Sgt. Mike Deneumoustier. Tips received from the public can be a major starting-point for investigations into drug related offences.
If you have information about a crime occurring in your neighborhood, please call Surrey RCMP at 604-599-0502 or, if you wish to make an anonymous report, contact Crime Stoppers at 1-800-222-TIPS or www.solvecrime.ca. Another way to help keep your neighbourhood safe is through our Block Watch Program; for more information about this program please visit our website.
Released by
Cpl. Joanie Sidhu
Media Relations Officer
Surrey RCMP
www.surreyrcmp.ca
14355 57 Avenue, Surrey, BC, V3X 1A9
Office: 604-599-7776
Email: surrey_media_relations@rcmp-grc.gc.ca

Follow Us: