Did the police find your pup?
Surrey, B.C. Lower Mainland District, This Is What We Do
2019-07-19 15:56 PDT
On Monday July 8, just after 1:00 a.m., Surrey RCMP front line officers located a lost dog walking on the roadway in the area of 99 Avenue and 168 Street, Surrey. The dog was walking in an area which is not well lit, near a blind corner. Officers were concerned that the dog may get hit by a vehicle so they stopped to try and identify it. The dog had no collar or identifiable markings which could assist in locating its owner.

Two officers attempted to coerce the friendly pup into their police car however she was less than willing. One officer, who owns a dog herself, fashioned a cord cuff into a leash and put it on the dog. Using the leash and with assistance from another officer, they got the dog, with a little resistance, into the police car.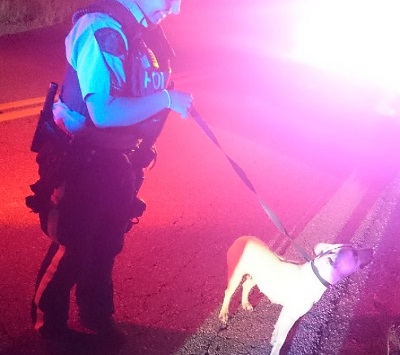 The pup was transported to a Langley animal hospital for the night and subsequently transferred to the Surrey Animal Resource Centre where she has remained all week.

"We are hopeful that we can help reunite this pup with her owner," states Corporal Joel Shoihet of the Surrey RCMP. "She is extremely friendly and while she was not excited for a car ride, she appears to love people and someone is surely missing her."

If you believe this dog is yours, please contact the Surrey Animal Resource Centre at 604-574-6622 or via email at animalinfo@surrey.ca.


Released by

Sgt. Janelle Shoihet

District Advisory NCO (Media Relations)
Lower Mainland District
lmd.bc.rcmp.ca
14200 Green Timbers Way, Surrey, B.C. V3T 6P3
Office: 778-290-4134
Cell: 604-657-5730
Fax: 778-290-6114


Email: janelle.shoihet@rcmp-grc.gc.ca

Follow Us: