Buying a pre-owned vehicle? Buyer beware
Top stolen vehicles
Looking to buy a pre-owned vehicle? Keep in mind that older vehicles are often easier to steal as they don't have an effective anti-theft device built in. All new vehicles built in Canada after September 2007 must now be equipped with anti-theft engine immobilizers.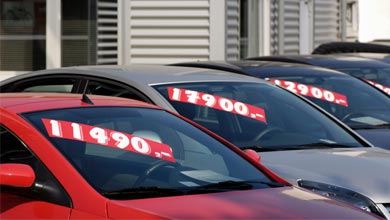 Signs to look for when buying a vehicle
Make sure that the Vehicle Identification Number (VIN) on the dashboard identification plate matches the vehicle registration form, and that it has not been tampered with. Signs of tampered VIN numbers include: loose rivets, mismatched rivets, screws in place of rivets, scratched numbers on the VIN, tape, glue or paint over the VIN;

Insist on seeing the original vehicle registration form, not a photocopy;

Ask the seller to provide you with photo identification and check that the name on the registration form is the same as the person standing in front of you. Make sure you have their valid home address, home number, and work number;

Check the license plate on the vehicle to ensure it matches the registration form;

Check the vehicle make, model, and colour to ensure they match with the registration form.
Why are vehicles stolen in the first place?
To sell the vehicle. Often thieves will take your car out of the province or country. Identification numbers may be altered or removed. Ownership certificates may be forged.

To sell the vehicle parts. Some thieves are stealing vehicles simply for the $200-300 value in the recycled metal.

For transportation. Thieves will use your vehicle to get where they want to go and abandon the vehicle. They may just drive it around to gain status with their friends.

To commit other crimes. Vehicles are stolen and used in other crimes such as robberies, break and enters, drug dealing, etc.
Protect your car
Invest in at least one anti-theft device. There are numerous anti-theft devices on the market. These include:
Steering wheel locks/Transmission locks
Electronic Engine Immobilizers
Satellite tracking systems
Vehicle alarms
If your vehicle has been stolen or you suspect a vehicle is stolen, report it to your
local police
immediately.