Identity theft
What is identity theft?
Crooks can create an illusion that they really are you. Once in that position, they can transfer money from your accounts, apply for loans and credit cards, and redirect mail. Additionally, they can buy merchandise, vacations and even homes.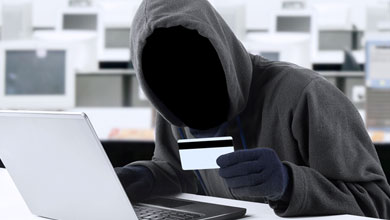 ---
There are many ways someone can access your personal information:
1. Mail theft
Superboxes and apartment boxes are more of a target than individual mailboxes for mail theft. This may include redirection of mail as well as theft of mail.
Be vigilant and report suspicious activities around mailboxes.

Pay attention if you do not receive mail that you had expected.

Don't let mail build up in your mailbox.
2. Intercepting garbage
Shred all documents containing personal information before discarding.

Businesses should be especially careful to guard their client's information.
3. Theft of wallets and purses
Your identification is often more valuable than the cash.
Do not carry unnecessary identification (passports, birth certificate, Social Insurance card).

Report stolen credit and bank cards.
4. Using computers to steal personal information
Phishing refers to directing people to web sites which look official, but are in fact bogus sites designed to access personal information. For example, if your bank's web site is www.mybank.ca, beware of www.mybank.com, www.my_bank.ca, or similar variations - they may be fake!
Back doors or Trojans are programs that may be loaded onto your computer, usually by e-mail, that enable other computers to remotely access your data. The threat can be eliminated through proper use of Internet security programs or firewalls, used in conjunction with anti-virus software.
Only share personal information on trusted and secure web sites. (secure sites begin with https:).

Do not open suspicious e-mail. Use anti-virus software to filter e-mail.

Wipe your computer hard drives if you sell or dispose of an old computer.

Use a firewall or Internet Security Software to prevent hackers from accessing your data.
5. ATM fraud
Tampering with automated teller machines (ATMs) and point of sale terminals enables thieves to read your debit or credit card number and personal identification number (PIN).
For more information on ATM skimming prevention tips, visit: PIN pad and ATM tampering.
---
How to determine if your identity has been stolen
You learn of a credit application that you did not make.

Regular statements do not appear in the mail.

A payment is charged to you that you did not authorize.

A collection agency informs you that you have defaulted on a payment you did not make.
---
If you think you are a victim
Notify your bank or credit card company immediately.

Request a fraud alert be placed on your credit record.

Contact your local police.

Record the dates and times of what you do and whom you speak with.
---
Resources