Police seeking witnesses to fire in Walmart
Surrey
2022-03-25 08:51 PDT
File # 2022- 41828
Surrey RCMP is investigating a fire lit inside a Walmart Store and requesting anyone with information to contact police.
On March 23, 2022, at 7:30 p.m., Surrey RCMP received a report that a man had lit an item on fire inside the Walmart located at 10153 King George Boulevard. An employee witnessed the man light the item on fire and flee the store. The fire was small, quickly extinguished by staff and no injuries were reported.
The suspect fled the area on foot and was not located by police. The suspect is described as a Caucasian male in his 30's with a medium build, wearing a grey jacket, black hoodie, blue t-shirt, grey sweatpants, dark baseball cap, dark gloves, a medical mask and he was carrying a black duffle bag.
Anyone with information about this incident is asked to contact the Surrey RCMP at 604-599-0502, or Crime Stoppers, if they wish to remain anonymous, at 1-800-222-8477 or www.solvecrime.ca.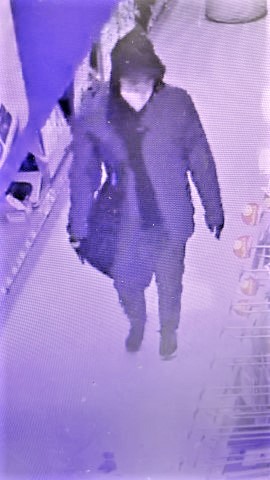 Released by

Cpl. Vanessa Munn

Media Relations Officer
Surrey RCMP
14355 57 Avenue, Surrey, BC, V3X 1A9
Office: 604-599-7776


Email: surrey_media_relations@rcmp-grc.gc.ca
Website: www.surreyrcmp.ca

Follow Us: