Surrey RCMP and partners participate in high risk driving campaign
Surrey
2016-12-01 11:13 PST
During yesterday's "Project Swoop" traffic education and enforcement campaign, the Surrey RCMP and its partners ICBC and Surrey Crime Prevention Society checked hundreds of drivers for a number of high risk driving behaviours. Officers issued over 50 tickets and warnings for a number of violations including speeding and distracted driving.
The Project Swoop campaign involves a number of traffic officers, auxiliaries, and volunteers strategically placed near high crash locations to drive home the message that speeding and high risk driving behaviours are dangerous and increase your risk of crashing. The campaign will continue throughout the week at multiple locations in Surrey.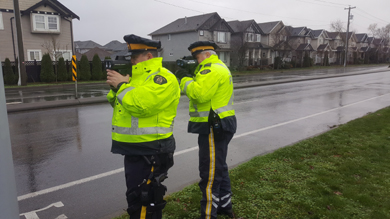 In Surrey, fourteen persons have been killed in traffic collisions so far this year, says Surrey RCMP Corporal Scotty Schumann. With the decreasing daylight hours and wet conditions, we want to remind drivers that we are out on the roads keeping drivers in check and to follow some simple rules to reduce your chances of being involved in a crash.
More than 800 crashes occur every day in B.C., many of these caused by risky driving behaviours, says Karen Klein, local ICBC road safety coordinator. Give yourself extra time to get to your destination so you don't feel the need to rush.
Recently installed Speed Reader Boards will also be at all Project Swoop locations, which alert drivers of their speed as they approach problem traffic locations.
The City of Surrey will also be enhancing its Speed Reader Board Program in 2017 as the boards are proving effective at slowing down drivers and raising awareness around the issue of speeding in our City, says Jaime Boan, City of Surrey Manager of Transportation. We want to encourage all drivers in Surrey to travel at safe speeds because it's everyone's responsibility to help keep our roads safe.
For safety tips and information visit the Road Safety page of the Surrey RCMP's website or ICBC's website. For information on traffic calming devices in your community please visit the City of Surrey's website.

Committed to serving the Community
Your Surrey RCMP is committed to providing a sensitive, responsive, professional policing service for all Surrey communities. For more information about Surrey RCMP Programs & Services, how to Protect Yourself, or our latest News Releases visit www.surrey.rcmp.ca.
For media inquiries contact:
Cpl. Scotty Schumann
Media Relations Officer
Surrey RCMP Media Relations Unit
Office: 604.599.7776
Email: surrey_media_relations@rcmp-grc.gc.ca
www.surrey.rcmp.ca
Follow Us: