Surrey RCMP and partners participate in high risk driving campaigns
Surrey, Traffic Services
2016-05-24 13:35 PDT
While National Road Safety Week may have just ended, the Surrey RCMP continues to focus on traffic safety with a series of education and enforcement campaigns this week aimed at high risk driving behaviour.
Starting tomorrow Wednesday, May 25th, Surrey RCMP along with its partners White Rock RCMP, Fraser Valley Integrated Road Safety Unit (IRSU), CN Rail Police, ICBC, and Surrey Crime Prevention Society, will launch Project Swoop at multiple locations throughout Surrey and White Rock.
The Project Swoop campaign will involve a number of officers, auxiliaries, and volunteers strategically placed near high crash locations to drive home the message that speeding and high risk driving behaviours are dangerous and increase your risk of crashing.
In addition, on Thursday, May 26th the Surrey RCMP will partner with ICBC and the Surrey School District for another Think of Me campaign to remind both parents and drivers about school zone safety and the hazards of distracted driving.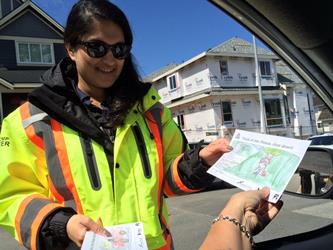 The Surrey RCMP is committed to reducing traffic collisions on our roads and the often tragic consequences that result, says Surrey RCMP Corporal Scotty Schumann. While this past long weekend was a good reminder about the start of a crackdown on dangerous driving, residents should know that we will continue to be out on the roads this week and throughout the summer keeping drivers in check. In Surrey, eight persons have been killed in traffic collisions so far this year.
Almost half of all crashes that result in injury or death involve high risk driving like speeding or failing to yield, says ICBC Road Safety Coordinator Karen Klein. Every year, on average, 94 people are killed in speed-related crashes in BC."
These campaigns also serve as a reminder for drivers that starting June 1st new fines for distracted driving in British Columbia will come into effect. A first offence will cost drivers $543 in penalties.
For safety tips and information visit the Road Safety page of the Surrey RCMP's website or ICBC's website.

Committed to serving the Community
Your Surrey RCMP is committed to providing a sensitive, responsive, professional policing service for all Surrey communities. For more information about Surrey RCMP Programs & Services, how to Protect Yourself, or our latest News Releases visit www.surrey.rcmp.ca.

For media inquiries contact:
Cpl. Scotty Schumann
Media Relations Officer
Surrey RCMP Media Relations Unit
Office: 604.599.7776
Email: surrey_media_relations@rcmp-grc.gc.ca
Follow Us: