RCMP Youth Academy applications now being taken!
North Vancouver
2017-11-03 08:00 PDT
File # 2017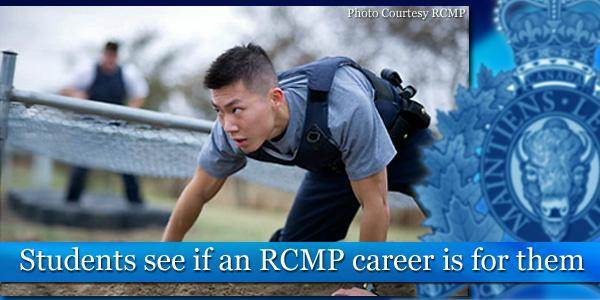 Interested in a career in law enforcement? The annual RCMP Youth Academy, being held next spring, has now begun to recruit all interested grade 11 and 12 students from various lower mainland high schools. The academy is a formalized partnership between the North Vancouver, Coquitlam, Burnaby, Surrey and Richmond RCMP Detachments and their respective School Districts.
Students are provided with an experience in policing that may help them decide if policing is a suitable fit for them. They also have an opportunity to network with officers already in the field.
For those who are not familiar with the Youth Academy, it is best described as a week long experience of what RCMP Depot training is like. The Youth Academy is an official RCMP program under Divisional and Detachment support. The training is under police and school board supervision at all times. While staying at the academy students work in teams, attend various police sciences lectures, participate in scenario based training, physical training (everyone's favourite), learn drill, and more.
Students are required to pass a physical test, an interview and background investigation to ensure their suitability. There is pre-reading material and the academy itself is a highly demanding, yet rewarding, week of experiences. Many past youth academy participants have gone on to join the RCMP, other police forces or entered into a career in criminal justice.
Interested students are encouraged to speak with their respective public school counselors to obtain an application package. The complete package must be submitted by November 22, 2017 via the counselor where the applicant attends school. The academy will be at a facility near Chilliwack from March 28 till April 5, 2018.

For more information go the North Vancouver RCMP website. Good luck to all applicants!


Released by

Cpl. Richard De Jong

Media Relations
North Vancouver RCMP
nvan.bc.rcmp.ca
147 East 14 St, North Vancouver, BC, V7L-2N4
Office: 604-969-7561
Cell: 604-363-5584
Fax: 604-990-7450


Email: richard.dejong@rcmp-grc.gc.ca

Follow Us: