Look-Listen-Be Seen
North Vancouver
2017-10-24 08:57 PDT
File # 2017
Pedestrian safety is paramount as our daylight hours become fewer and the weather more inclement. To help bring awareness to pedestrian safety, North Vancouver RCMP is partnering with ICBC to help educate the public by handing out free personal safety reflectors.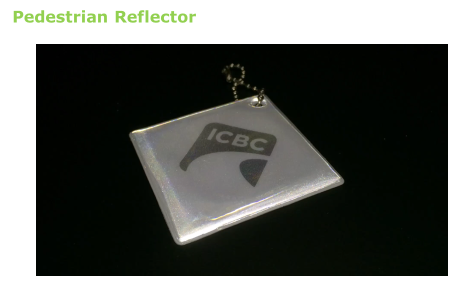 On Wednesday, October 25, 2017 at the Lonsdale SeaBus Terminal, from 7:00 to 8:30 a.m., local dignitaries, ICBC staff, and police officers will be handing out safety reflectors. These can easily be attached to your clothing or gear, so no matter what you're wearing you will be easier to see on the road (all media is welcome to attend this event).
As a pedestrian, keep these tips in mind:
Look - Always make eye contact with drivers. Don't assume the driver has seen you.
Listen - Focus on what's happening around you. Remove headphones and never talk, text, or use electronic devices in an intersection or while crossing a roadway.
Be Seen - Wear reflective clothing or use reflective gear to make it easier for drivers to see you.
Be extra cautious at intersections. Watch for vehicles turning left or right through the crosswalk.
Always cross at designated crosswalks – never mid-block.
43 per cent of all crashes where a pedestrian gets injured happen in just four months of the year, October to January, as visibility and conditions get worse, said Harvey Kooner, local ICBC road safety coordinator. When driving, we need to take a break from our phones, be extra alert at intersections and be ready to yield the right-of-way. When walking, we need to help drivers see us by staying focused on the road and making eye contact with drivers.

It's much harder to see pedestrians in the dark and at dusk so give yourself extra room so you can stop suddenly if needed. Stay focused on the road and refrain from using your phone or other distracting devices.

For more information on pedestrian safety go to BC.RCMP and ICBC.


Released by

Cpl. Richard De Jong

Media Relations
North Vancouver RCMP
nvan.bc.rcmp.ca
147 East 14 St, North Vancouver, BC, V7L-2N4
Office: 604-969-7561
Cell: 604-363-5584
Fax: 604-990-7450


Email: richard.dejong@rcmp-grc.gc.ca

Follow Us: