Photos, Photos & More Photos - Have a Look!
Langley
2017-03-29 11:15 PDT
Dossier nº 2017-7584, 8016, 8269, 8632, 8819 & 9511
Langley RCMP is seeking the assistance of the public with the following investigations:
2017-7584
Police allege the pictured female stole approximately $150 worth of product from Pier One Imports on March 4th. She was seen leaving in a black Honda CRV with a faded bumper.
2017-8016
It is alleged the pictured male stole an electric hair trimmer from Superstore on March 8th. He is described as Caucasian, in his 20's with short br9own hair and he was wearing a black jacket with red trim. He was seen leaving the area on a black and white bicycle.
2017-8269
On March 10th police received a report of credit card fraud. It would appear the newly issued credit cards had been intercepted in the mail and were now being used to make purchases at various stores in Langley. Police allege the pictured male is a person of interest in this investigation.
2017-8632
The pictured trailer was stolen during a break and enter to Kitt Equipment on Fraser Highway sometime between March 1th and March 13th.
2017-8819
Police allege the pictured male stole vinyl records from the Mission Thrift Store in Langley on March 14th.
2017-9511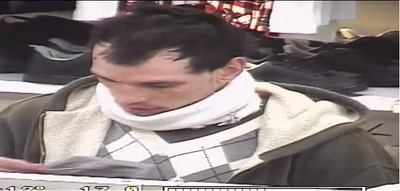 It is alleged the pictured male stole a belt from Superstore in the Willowbrook area on March 20th.

If you have information that might assist police with any of the above investigations, please call Langley RCMP at 604-532-3200. Should you need to remain anonymous, please call CrimeStoppers:

There are two ways to leave an "anonymous tip" with Crime Stoppers.

Talk: 1-800-222-8477

Type: www.solvecrime.ca


Diffusé par

Cap. Holly Largy

Agente des relations avec les médias
GRC de Langley – « Branché sur la collectivité »
langley.bc.rcmp.ca (en anglais seulement)
22180, avenue 48A, Langley (C.-B.) V3A 8B7
Téléphone : 604-532-3231
Cellulaire : 778-991-7932
Télécopieur : 604-532-3239


Courriel : holly.largy@rcmp-grc.gc.ca

Suivez-nous :