Surveillance Photos - You know what to do...
Langley
2017-02-20 11:17 PST
Dossier nº 2017-2822, 3552, 3788 & 4705
Langley RCMP is seeking the assistance of the public with the following investigations:
2017-2822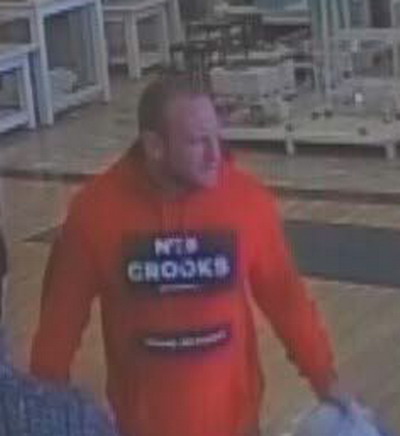 Police allege the pictured male stole bedding from Home Sense on the Langley Bypass on January 25th. He was seen leaving in a Black Ford F350 pickup truck.
2017-3552
The pictured male is suspected of stealing alcohol from the Aldergrove Liquor Store on January 28th. He is described as having a full beard and was wearing a black jacket and toque.
2017-3788
Police allege the pictured male stole cash from the register at the New Balance Store in the Willowbrook area. He is described as Caucasian, 5'9 tall, wearing a black toque, a tan jacket, a blue T-shirt and blue jeans.
2017-4705
It is alleged the pictured male stole two cell phones from Guru Cellphones on February 9th. He wore glasses and a black jacket with a grey hood.

If you have information that might assist with any of the above investigations, please call Langley RCMP at 604-532-3200. Should you need to remain anonymous, please call CrimeStoppers:

There are two ways to leave an "anonymous tip" with Crime Stoppers.

Talk: 1-800-222-8477

Type: www.solvecrime.cawww.solvecrime.ca


Diffusé par

Cap. Holly Largy

Agente des relations avec les médias
GRC de Langley – « Branché sur la collectivité »
langley.bc.rcmp.ca (en anglais seulement)
22180, avenue 48A, Langley (C.-B.) V3A 8B7
Téléphone : 604-532-3231
Cellulaire : 778-991-7932
Télécopieur : 604-532-3239


Courriel : holly.largy@rcmp-grc.gc.ca

Suivez-nous :