@cqrcmp hits a Twitter milestone
Coquitlam
2017-07-17 15:59 PDT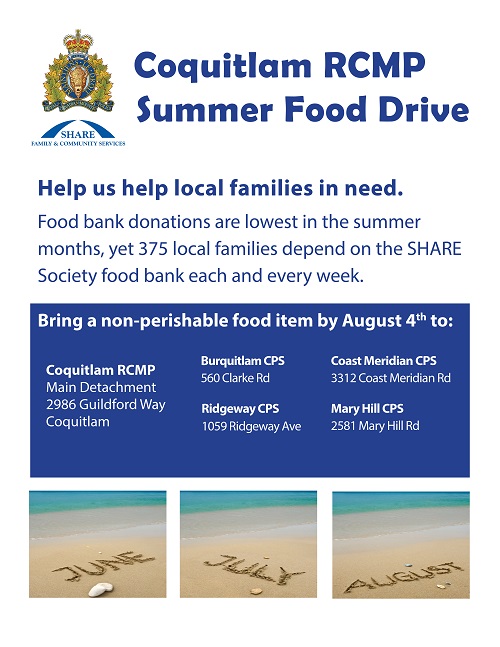 Coquitlam - Coquitlam RCMP is celebrating a social media milestone. On July 17, 2017 the local detachment's Twitter handle, @cqrcmp, passed 10,000 followers.
The police can't be effective if they don't take the time to build and nurture strong relationships with the people they serve, said Supt. Sean Maloney, Officer-in-Charge of Coquitlam RCMP since 2014. Social media is one of the ways we build those relationships. Hitting this milestone is a great success and I look forward to hitting more of them in the future.
The Coquitlam RCMP has been on Twitter since July 2011. The detachment expanded its social media presence with aFacebook page, which launched in September 2015.
The Coquitlam RCMP is marking the social media milestone by holding a food drive in support of the SHARE Society.
The demand on the food bank does not go away during the summer months, and this is often a time when the food bank resources are at their lowest, said Michelle Murray, Events and Fund Development Officer at SHARE. Summers can be hard, especially on families with kids who rely on school food program during the school year because they don't run during the summer, but the kids still need to eat.
Donations of non-perishable food or gift cards can be dropped off at one of these five locations between July 19th and August 4th.
Coquitlam
RCMP main detachment (2986 Guildford Way)
Ridgeway CPS (1059 Ridgeway Avenue)
Burquitlam CPS (560 Clarke Rd)
Port Coquitlam
Mary Hill CPS (2581 Mary Hill Road)
Coast Meridian CPS (3312 Coast Meridian Rd)
Suivez-nous :