2016 OIC awards recognize exceptional work by Mounties, volunteers, city staff and citizens
Coquitlam
2017-05-17 09:24 PDT
The Coquitlam RCMP held its annual OIC Awards, Tuesday, May 16th at the local detachment. Superintendent Sean Maloney, Officer in Charge (OIC) of the Coquitlam RCMP recognized those who went above and beyond in 2016 in the areas of leadership, community service, excellence in performance, valour and innovation. Several Mounties also received their Long Service Medals, which recognize the day-to-day actions of RCMP officers in long careers of exemplary service and are awarded after 20, 25, 30, and 35 years of service.
This ceremony is a great event, said Supt. Maloney. I've been at this detachment for three years and I'm constantly impressed by the dedication and excellence shown by our officers, our community volunteers, our employees and the citizens of the communities we serve. It's a real honour for me to stand up and recognize the hardworking and dedicated men and women who strive to keep our communities safe and strong".
The valour award, which recognizes exceptional work in assisting first responders, is the only OIC award that can be given to a private citizen and Mr. Christopher Roberts was the only private citizen to receive the award this year. Mr. Roberts' was honoured for intervening in a potentially deadly incident where a man got stabbed in the neck. By the time officers arrived, Mr. Roberts had convinced the suspect to drop his weapon and kept the suspect at the scene for police.
It was no big deal, said Mr. Roberts about the incident. I heard a call for help and just went to help.
Mr. Roberts' humility about his actions was not echoed by the Mounties that responded to the call. It was a huge deal, said Staff Sargeant Rachel Meredith-Milne who was in charge of the detachment's first responders that day. Without his intervention, that call could easily have ended in tragedy—in fact, I'm not sure it could have ended in anything other than a tragedy. Chris Roberts made all the difference in the world to our members and the community that day.
Recipients of the OIC Awards for Leadership:
S/Sgt. R. Lemon (Retired)
Sgt. S. Grimmer
Sgt. G. Yeung
Cpl. J. Abels
Cpl. M. Wong
A/Cst. S. O'Sullivan
Recipients of the OIC Awards for Community Service:
A/Cst. R. Ma
A/Cst. B. Mathieu
A/Cst. L. Moore
Ms. N. Cairns
Mr. N. Devin
Ms. J. McNeice
Recipients of the OIC Awards for Excellence in Performance:
Individual:
Cpl. J. Turpin
Cst. B. Anselmo
Cst. D. Bigcharles
Cst. N. Dobie
Cst. B. Lachance-Morin
Cst. R. Lamb
Cst. B. Lindsay
Cst. M. Nevison
Cst. R. Sierakowski
Cst. G. Tiwana
Cst. J. Wertz
Ms. G. Conrod
Mr. A. Maleki
Ms. J. Rothenberger
Team:
Prolific Target Team
Coordinated Collision Investigation Team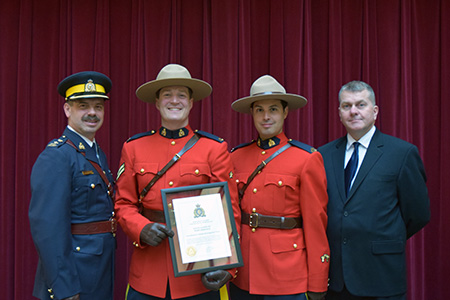 Recipients for OIC Awards for Valour:
S/Sgt. R. Meredith-Milne
Sgt. K. Schendel
Cpl. J. Tran
Cst. R. Essiambre
Cst. K. Gill
Cst. R. Uppal
Mr. C. Roberts
Recipient for OIC Awards for Innovation:
Recipients of the Long Service Medal:
S/Sgt. R. Meredith-Milne (20 years)
Sgt. G. Wong (20 years)
Cpl. O. Arce (20 years)
Cst. V. Ramji (20 years)
Cst. L. Langlois - Retired (30 years)
S/Sgt. R. Lemon – Retired (35 years)
More information about the Coquitlam RCMP OIC Awards:
Leadership:
To be awarded for superior leadership skills that made a significant, positive contribution to the Coquitlam RCMP. Leadership skills include, but are not limited to: problem solving, planning, organization, communication and/or administration.
Community Service:
To be awarded for superior commitment to developing, implementing and/or taking part in programs, projects or initiatives that benefit the community, its neighbourhoods, schools, businesses, and/or other partner/stakeholder organizations.
Excellence in Performance:
To be awarded for superior attention to duty and/or an outstanding work effort leading to the identification and/or resolution of a significant challenge.
Valour:
To be awarded for bravery and/or selflessness in the aid of emergency responders and/or a fellow citizen.
Innovation:
To be awarded for the design and/or implementation of innovations put into useful practice. Particular attention will be paid to:
How the innovation changed common understanding of a problem and/or its solution;
How the innovation translated into useful practice(s) that benefit the employees, volunteers and regular members of the Coquitlam RCMP and the citizens they serve.
Diffusé par

Gend. Jennifer Goodings

Relations avec les médias
GRC de Coquitlam
coquitlam.rcmp.ca (anglais seulement)
2986 Guildford Way, Coquitlam, BC V3B 7Y5
Téléphone : Office: 604-945-1580


Courriel : coquitlam_media@rcmp-grc.gc.ca

Suivez-nous :