2016 Year in Review
Coquitlam
2017-06-06 12:45 PDT
Coquitlam RCMP 2016 Year in Review
The sworn officers, civilian staff, and volunteers that make up the Coquitlam RCMP team serve the citizens of Anmore, Belcarra, Coquitlam, Port Coquitlam and the Kwikwetlem First Nation—a permanent resident population of more than 200,000. We also serve the tens of thousands of people who travel to and through our jurisdiction every day for school, work, and recreation. We provide 24/7 response to call and investigations as well as a wide range of crime prevention and community education initiatives that help make our jurisdiction a safe, secure place to live, work and play.
Stats & Facts
Calls for Service
Total calls for service in 2016: 43,094
40% of the calls for service we received in 2016 required urgent or immediate response.
DO YOU KNOW when to call 9-1-1 and when to call our non-emergency line?
Tip: if an incident is happening right in front of you and a person or property is at risk, call 911. If the incident is over and no people or property were seriously harmed, call the non-emergency line 604-945-1550. And, no matter what, don't try to report crime on social media, email or text message.
Top 5 Calls for Service
Suspicious person/vehicle/occurrence

False/abandoned 911

Cause disturbance

Theft from vehicle

Traffic
Almost 2,800 false or abandoned 9-1-1 calls were handled in 2016.
We had to follow up on each and every one of them to make sure the caller was safe. We need your help to make sure all 911 calls are real 911 calls.
Tip: Lock your phone's screen before you slip it into your pocket or bag to reduce the chance of purse or pocket dials. If you dial 911 by mistake, stay on the phone and talk to our staff. You'll spare us the time we'd otherwise spend trying to track you down to make sure you're okay. More 9-1-1 FAQs.
Road Safety
Almost 7,500 drivers got tickets for distracted driving, speeding or breaking the rules in an intersection.
Police-reported collisions
Fatal Collisions - 4
Injury Collisions - 301
Property Damage Collisions - 1,352

Enforcement
Distracted driving - 2,012
Impaired driving - 273
Intersection violation - 2,817
Speed - 2,617
Seatbelt violation - 573
Total tickets issued - 8,292
DID YOU KNOW? Police aren't the only ones working to make our roads safer…Cell Watch and Speed Watch volunteers scanned more than 60,000 vehicles for excessive speed and device use in 2016. More on the Tri-Cities Speed Watch program.
Community Safety
Did you know? The police enforce the Criminal Code of Canada, but we also enforce thousands of other statutes and bylaws—like the BC Motor Vehicle Act—that fall in to the category of non-Criminal Code.
Top 5 Criminal Code Offences
Cause disturbance

Theft from vehicle

Mischief

Theft (<$5,000)

Shoplifting (<$5,000)
Over 30% of all founded Criminal Code incidents in 2016 were either break and enters or auto theft. Visit coquitlam.rcmp.ca and follow us on social media to find out what you can do to prevent these high volume property crimes from impacting your family and your neighbourhood.
DID YOU KNOW? Violent crime—also known as persons crime—is very rare in the communities we serve; making up less than 4% of all founded incidents in 2016.
Online & Social Media
---

Where Did You See Us In 2016?
Connected To Our Communities
January:
27th: Reading to local kids on Family Literacy Day
February:
24th: Taking a stand against bullying on Pink Shirt

26th: Supporting the Soroptimist International of Tri Cities at the 6th annual Giver Her Wings Gala.
May:
2nd: Competing against teams of youth and firefighters in Port Coquitlam's annual Youth Week Floor Hockey tournament.

7th: Marching in Red Serge in the annual Port Coquitlam Rotary May Day Parade.
11th: Arresting dozens of local VIPs and holding them in jail at Coquitlam Center to raise funds for the Cops for Cancer Tour de Coast.
June:
15th: Wearing purple to support Elder Abuse Awareness Day

16th: Supporting the Canadian Cancer Society's annual Relay for Life at Percy Perry Stadium.
26th: Joining the crowds at Belcarra Day
July:
1st: Raising flags and participating in other Canada Day festivities in Coquitlam and Port Coquitlam.
12th: Cleaning up graffiti in Port Coquitlam with Teens Against Graffiti.

21st: PoCo Grand Prix bike race.

31st: Marching with the BC RCMP contingent in the Vancouver Pride Parade.
August:
8th-12th: 6th annual Junior Mountie Police Academy—a free, half-day camp that lets kids, teens and tweens get a firsthand look into the life of a police officer.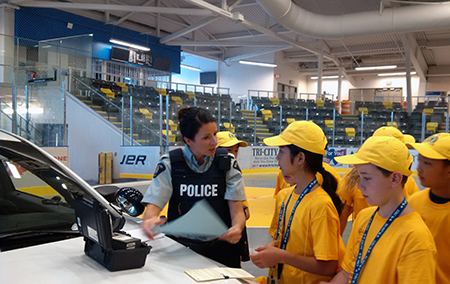 21st: PoCo BIA Downtown Car Show.
September
18th: Supporting the Terry Fox Hometown Run in Port Coquitlam.

27th: Cheering on the Cops for Cancer Tour de Coast team, especially our local riders—Sgt. Terry MacDonald, Cst. Soumia Abboub, and Cst. Tania Saunders, who shaved her head as a fundraiser a week before the ride.
October:
12th: Talking to new residents about our programs and services at the City of Coquitlam's annual Welcome to Coquitlam event.
24th-25th: Hosting The Anti-Graffiti Symposium (TAGS) conference at the Executive Inn in Coquitlam. The annual event draws experts from around the world to share ideas about preventing and eliminating graffiti vandalism.
November:
11th: Marching in Red Serge in Remembrance Day ceremonies in Coquitlam and Port Coquitlam.
December:
Where else have you seen us?
Our volunteers worked more than 17,000 hours in 2016 improving road safety as part of the Speed Watch, (photo) attending events in uniform as Auxiliary Constables, doing foot and bike patrols as part of the Community Police Station program and much more. Sound interesting? Visit

coquitlam.rcmp.ca

to find out how you can join our team as a volunteer.
Our members and volunteers were a Coquitlam's Neighbourhood Nights and Coquitlam 125 Block Parties. We were on the streets for traffic enforcement road blocks, Speed Watch radar set ups and Cell Watch campaigns. We were on foot, bike (photo) and ATV patrols on the parks and trails throughout our jurisdiction. And we delivered hundreds of presentations on policing and public safety in partnership with School District 43, S.U.C.C.E.S.S., Girl Guides, Boy Scouts and many other groups and organizations.
---
Download the Coquitlam RCMP 2016 Year in Review
Follow Us: