Car Wash for Charity
Prince George
2017-05-18 11:42 PDT
The Prince George RCMP and our partners from the BC Sheriffs Service and Prince George Fire / Rescue, will be holding a car wash to raise money for Special Olympics BC.
Members of these three public safety organizations will be on hand this Saturday to wash vehicles for a minimum donation of $10.
In addition, 50/50 raffle tickets will be sold for $5 each. With only 2000 tickets being sold, the maximum prize to be awarded is $5000.
Proceeds of the event will be added to moneys raised for the upcoming Law Enforcement Torch Run to be held June 6th at the Prince George RCMP Detachment. All of the money raised at that event will be donated to Special Olympics BC to support Prince George area athletes.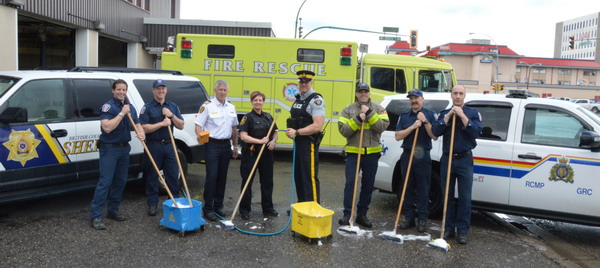 Image of members of all three agencies posing in front of emergency vehicles while holding car washing implements.

This is such a great cause, these athletes put all their heart into their respective sports and we are happy to help them to have that opportunity says Cpl. Craig Douglass, spokesperson for the Prince George RCMP. And if that isn't a good enough reason to get your car washed, how often do you get a Sheriff, fire fighter or police officer washing your car?

Details of the car wash event:

Date: Saturday May 20th
Time: 11:00 AM to 3:00 PM
Location: Canadian Tire parking lot at 5008 Domano Boulevard

Please come out and support this worthwhile cause.

The RCMP officially supports two charities each year, the Law Enforcement Torch Run for Special Olympics and Cops for Cancer supporting the Canadian Cancer Society.

BC Gaming licence number 95565


Released by

Cpl. Craig Douglass

Communications NCO / Media Liaison Officer
Prince George RCMP
princegeorge.rcmp.ca
455 Victoria Street, Prince George, BC, V2L 0B7
Office: 250-561-3321
Cell: 250-640-1758


Email: pg_media@rcmp-grc.gc.ca

Follow Us: