Suspects and Vehicle Sought in Commercial Break-In
Prince George
2017-03-22 08:54 PDT
File # 2017-08060
The Prince George RCMP are continuing to investigate an early morning Break & Enter at a commercial retail store located on Monterey Road near Highway 97 in Prince George.
Police received the report just before 6:00 AM on Tuesday March 21st, 2017 and arrived to find that a vehicle had been used to smash into the business in order for thieves to gain access. Two suspects fled shortly after with a quantity of alcohol.
Investigators believe that a stolen pick-up truck may have been used in the break-in. Prince George RCMP received a report of a stolen red 2007 Ford F-250 pick-up at approximately 4:45 AM from an address on the 2000 block of Central Street in Prince George. The truck has a lift kit installed and was bearing BC licence plates FC8966.
Police are requesting the public's help in identifying the persons involved or the location of the stolen pick-up. Both are believed to be male and were wearing hoodies at the time of the offence. Please see the attached image.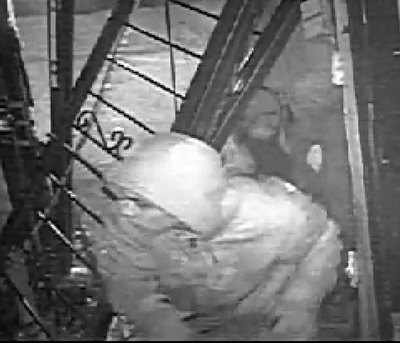 Surveillance image of one of the male suspects.

If you have any information about this Criminal offence, who may be responsible or where the truck is, please contact the Prince George RCMP at (250)561-3300 or anonymously contact Crime Stoppers at 1(800)222-8477, online at www.pgcrimestoppers.bc.ca (English only), or Text-A-Tip to CRIMES (274637) using keyword pgtips. You do not have to reveal your identity to Crime Stoppers. If you provide information that leads to an arrest or the recovery of stolen property, you could be eligible for a cash reward.


Released by

Cpl. Craig Douglass

Communications NCO / Media Liaison Officer
Prince George RCMP
princegeorge.rcmp.ca
455 Victoria Street, Prince George, BC, V2L 0B7
Office: 250-561-3321
Cell: 250-640-1758


Email: pg_media@rcmp-grc.gc.ca

Follow Us: