A Word of Thank You
The men and women of the RCMP in BC take great pride in providing professional service to the communities they serve. It is reassuring for them to hear that they have made a difference in someone's life. If you have had a good experience with one of our RCMP members, units or detachments, we encourage you to email us about it in the official language of your choice at
bcrcmp@rcmp-grc.gc.ca
.
West Shore 2019-09-04
Extreme gratitude to Constables Heather and Darren, of Westshore Detatchment, Victoria, BC, who rescued me and my little dog from the middle of nowhere in Thetis Lake Park last night. I am so very, very grateful.
Julie Elizabeth

---
Mission 2019-08-16
I am writing to thank you and your officers on duty for taking time out of their busy schedule to attend and speak with my neighbours about their loud music in the very early hours of the morning on several occasions these past few weeks.

Your presence helped restore peace to my living situation and has made a real difference in a positive way. I understand your officers have more important life threatening situations to deal with but I want you to know how deeply appreciative I am that officers were despatched to investigate each and every time I called just to check in on the situation.

Thank you so much again. R. H.
---
100 Mile House 2019-07-10
We are writing to express our deepest gratitude for the 100 Mile RCMP's assistance. On the morning of June 21, I arrived at the lake for a weekend of relaxation, to find that the cabin had been broken into, and a large trailer had been left on the access road. After making my way back to Forest Grove, I contacted the RCMP.
I spoke to the dispatch agent, who was wonderfully thorough in her questioning. She also was very reassuring and patient.
That afternoon, the RCMP coordinated to have Constable Ziemer accompany me back out to the property. Given that the property is an hours drive out of town, 45 minutes out of cell service, checking out the cabins independently was not something I was comfortable with.
He spent hours diligently searching each cabin and the abandoned trailer to assess the break-ins and ensure no one was remaining on the premises. Constable Ziemer also efficiently coordinated with the RCMP office to have a tow company out to remove the trailer from the road. Not an easy feat, given that our directions often resemble something like ?turn right at the big rock, past the clump of trees?.
Following this, the 100 Mile RCMP team has been in communication with us, regarding recovered items. We have been so thrilled to have recovered anything at all.
Spending so much time out of town, I?ve often wondered what the response would be, should we ever need emergency services. Following the fire evacuations last year, where we had officers come right down to the property to ensure we received the evacuation notice, we were already impressed. This situation though, has further brought to light how thorough and diligent the 100 Mile RCMP team is, and we are so grateful to have them looking out for us.
Thank you,
L. LeGear, G & M Donaldson
---
Nanaimo 2019-05-29
We understand that you are woefully understaffed (which the public should be made aware of) but your cars and laser speed guns were a very welcome sight along the highway. We have frequently been passed by vehicles driving far in excess of the posted limit. We have also received the "finger" quite often so we are thinking of putting a sign on our car that says "sorry, we drive the speed limit " We have often discussed that with a lottery win we would fund a dedicated traffic detail as one of our civic duties. Just wanted to give you our thanks for a difficult job well done. Hope to see you again soon on the highways.
Sincerely,
L.E and D.L
---
Nanaimo 2019-04-26
The intent of this letter is to extend my sincere thanks to the Westshore RCMP Detachment. Last year members of your detachment responded to a 911 call that resulted in a number of charges being laid domestic assault, uttering threats and two subsequent breaches of an order. Yesterday afternoon the assailant plead guilty to all charges and was sentenced.
I would like to extend my sincerest thanks to the Westshore RCMP for their care, concern, understanding and continued support over the past 7 months. Having served with the Canadian Forces for 23 years I recognize that the challenges your members face on a daily basis are often complex, frustrating and disturbing. I am sure there are many days their desire to serve and protect is often challenged as the work must often seem thankless. Their continued commitment however has had a profound impact for myself.
Please extend special thanks to Constable Baylin, Roy, and MacGregor, without their assistance, continued support and understanding I would have been far more challenged to accept, process, learn and grow from a very difficult experience. Thank you, the choice to serve with the RCMP positively impacts our entire community and I have and will continue to be a positive voice of support. Please remind all your members, their chosen career path does and will continue to positively impact individual lives daily.
With the Warmest Regard and Tremendous Respect,
R. Bird
Sending prayers you all remain Happy, Healthy and Safe

---
Kamloops 2019-02-26
So, today Jim and I where standing in the line up for the Walk-In Clinic today. Minutes after us waiting to be let in a police car rolls up and in goes one police man while there was another sitting in his car. The police officer in the car had seen Jim from inside his vehicle and started to talk to him saying 'Hi, how are you' and stuff like that. After he had warmed himself up to Jim he then asked Jim if he would like to see the 'Police Car?'. My boys eyes lit up so bright and said 'Really?! Yes!!'
The cop had then jumped out of his car letting Jim take front seat. The police man was showing Jim his whole car, including the big shot gun that was in the middle. The police officer asked Jim if he wanted to see something 'cool' then showed him this switch in the car and how to turn it on. He let Jim flip this switch and on goes the flashing lights! The two of them jumped out of the car to see the flashing lights that Jim turned on. Jim was so proud he did that himself, but not as proud as I was of him , lol! Curious little Jim asked to see the back of the car while being on the outside of the car, so in Jim went (after the police officer checked the backseat of course). Jim crawled in and sat down then asked the police officer 'come in with me'. So the police officer laughed and sat beside him. They had a little conversation and introduced themselves.
The police officer was so nice he even took a photo of us on his phone, because I had left mine in my car. I rarely hear of this happening just for the fun of it, but I am so glad it happened to my boy! Not only did Jim avoid waiting in the cold, he also got to take over a police car! He was so excited about what had just happened we went and bought him some Police gear at the store. Jim honestly used to be afraid of the police and thought they where mean, but now if you ask him I bet he will tell you he loves them.
The police man told me that he wishes he had the chance to do this more often with children so that they can feel safe with them and not afraid. I hope my boy remembers this day when he is older and it makes an impact on his future to do right. Hopefully we see more of this happening to other children!
Thank you Officer Howard for this experience!
L. Ross
---
Whistler 2019-02-03
On Sunday, February 3, my son, was rescued from a potentially life-threatening situation northwest of Pemberton through the efforts of Corporals Witzke and Hamilton, and other members of your team working with them.
Corporal Jeff Witzke was my point of contact throughout the rescue effort. It needs to be said that Jeff was eminently professional and diligent in communicating with my wife and I. Throughout this harrowing ordeal, during which we naturally feared the worst for our son, Jeff provided the highest possible degree of reassurance and comfort. He continued to follow up with us even after the rescue, calling me personally to see whether our son had called home as he was leaving Pemberton enroute to his medical school rotation in Kamloops, where he is to spend the next two weeks serving at the hospital there.
This morning I spoke with Corporal Hamilton and learned that he was also heavily involved in the effort. I wish to commend these two fine members of your detachment and to say that they are a credit to your detachment and to the RCMP. I would also ask you that pass on our since appreciation to all of the other members involved in this rescue effort. Canadians like my wife and I are so very grateful for the work you folks do, day in and day out.
The Verdirame Family
Markham, Ontario
---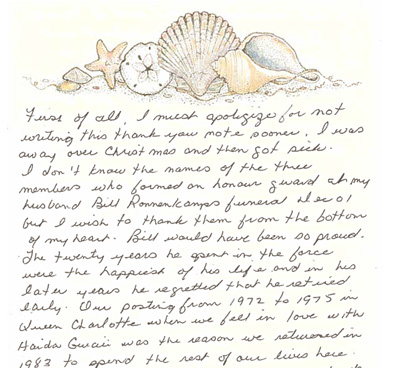 Queen Charlotte 2019-01-24
First of all, I apologize for not writing this thank you note sooner. I was away over Chistmas and then got sick. I don't know the names of the three members who formed an honour squad at my husband Bill's funeral but I wish to thank them from the bottom of my heart.
Bill would have been so proud. The twenty years he spent in the force were the happiest of his life and in his later years he regretted that he retired early.
Our posting from 1972 to 1975 in Queen Charlotte when we fell in love with Haida Gwai was the reason we returned in 1983 to spend the rest of our lives here.
There were so many positive comments at the funeral about your presence there and I think it is so important for the community to see police in different and supporting roles.
I am moving at the end of March to Sidney on Vancouver Island and a good omen is that there is a Mountie living on my street.
Once again thank you for your presence and kind words at Bill's funeral.
Karen R.