Mounties aim to return suspected stolen property to its owners
West Kelowna, Kelowna
2017-12-14 15:09 PST
File # 2017-73309
Mounties in West Kelowna are turning to the media in hopes of reuniting recent break and enter victims with their cherished personal items, after police seized a large amount of suspected stolen property from a home in the area.
On December 7, 2017 RCMP in West Kelowna conducted a large seizure of suspected stolen property from a local residence. Men's and women's jewellery along with personal accessories made up the majority of the suspected stolen property seized by police which included, rings, necklaces, bracelets earrings, purses, sunglasses and watches.
These items are often targeted by thieves as they are easy to conceal and carry from the home, in some cases have significant value and most times aren't identifiable by a serial number or unique engraving.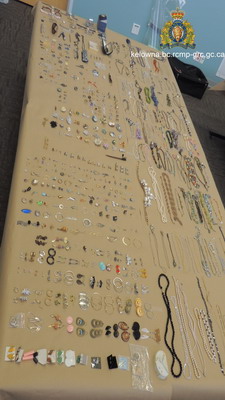 Our investigators believe it is likely that the items have come from multiple residential break and enters, says Cpl. Jesse O'Donaghey.

Police are encouraging residents of the West Kelowna and Peachland areas, who have been the victim of a break and enter and suffered a subsequent loss of jewellery items, to contact the lead investigator of their police file in hopes of claiming their personal property, adds Cpl. Jesse O'Donaghey.

Residents who do not have their police file number can contact Cst. Richard Schuhmacher or the front counter staff at the West Kelowna Detachment at 250-768-2880 for assistance.


Released by

Cpl. Jesse O'Donaghey

Media Relations Officer
Kelowna RCMP
kelowna.bc.rcmp.ca
1190 Richter Street, Kelowna, B.C. V1Y 2K7
Office: (250) 762-3300
Fax: (250) 470-6348


Email: jesse.odonaghey@rcmp-grc.gc.ca

Follow Us: