Police release sketch of December 21st assault suspect
Surrey RCMP is asking for the public's assistance in identifying a suspect from an alleged assault on a south Surrey student in Alderwood Park on December 21st (see previous release).
Surrey RCMP's Special Victims Unit is leading this investigation with the assistance from the Youth Unit. A RCMP forensic artist has created a composite sketch with details provided by the victim. The suspect is described as a clean cut looking Caucasian male, 30 to 40 years old, with a fair complexion and short black hair, and wearing a black hoody and gloves.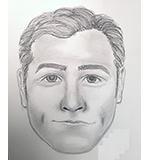 If you recognize this person or have any information pertaining to this incident, investigators want to hear from you right away, says Corporal Scotty Schumann.
Anyone with information is asked to contact the Surrey RCMP at 604-599-0502. Please ask for Constable Jackie Ellis and quote file #2017-181306.
If you wish to make an anonymous report please contact Crime Stoppers at 1-800-222-TIPS or www.solvecrime.ca.
Committed to serving the Community
Your Surrey RCMP is committed to providing a sensitive, responsive, professional policing service for all Surrey communities. For more information about Surrey RCMP Programs, Services, how to Protect Yourself, or our latest News Releases visit www.surrey.rcmp.ca.
For media inquiries contact:
Cpl. Scotty Schumann
Media Relations Officer
Surrey RCMP Media Relations Unit
Office: 604.599.7776
Email: surrey_media_relations@rcmp-grc.gc.ca